Sony/Murata VTC5A - 18650 Battery - 2600mAh - 25A
Sony/Murata VTC5A - 18650 Battery - 2600mAh - 25A - Sony/Murata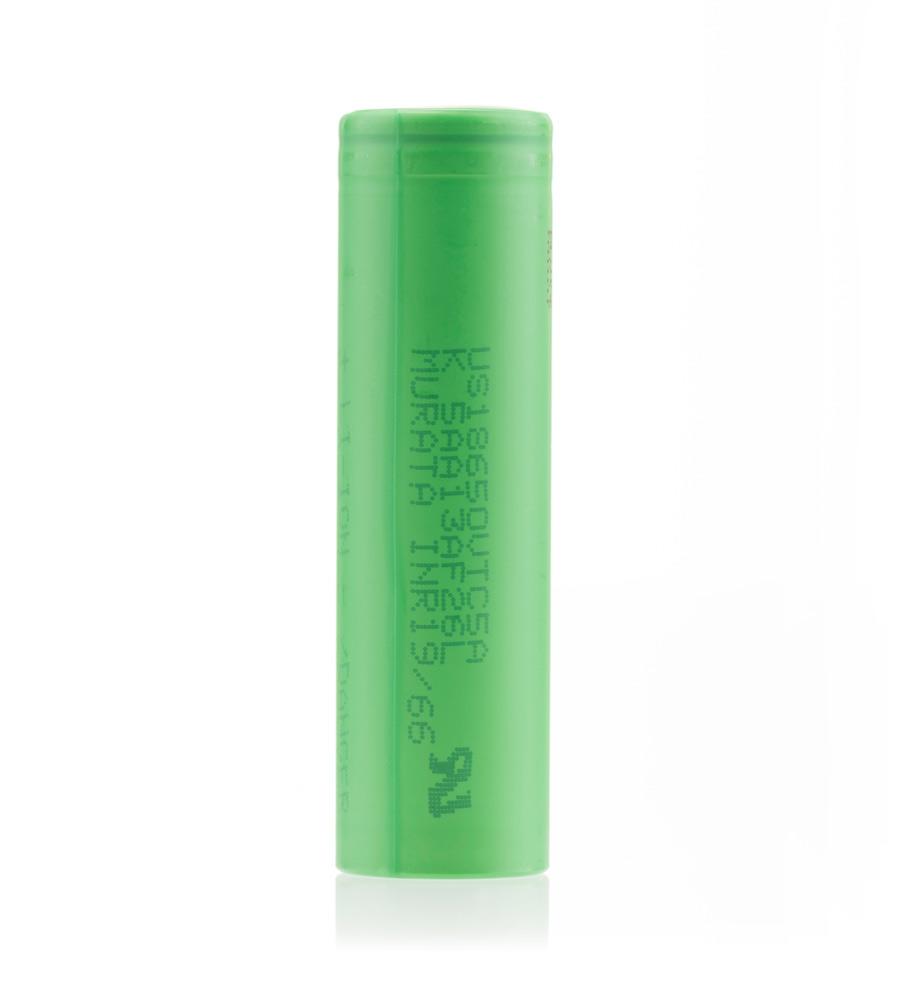 Sony/Murata VTC5A - 18650 Battery - 2600mAh - 25A
Sony/Murata
2600mAh - 25A Continuous Discharge - Flat Top/Button Top/Tabs
Order by 3pm (Monday to Friday) for same day dispatch!
Brand: Sony/Murata
Model: VTC5A (US18650VTC5A)
Size: 18650
Chemistry: NMC
Nominal Capacity: 2600mAh
Nominal Voltage: 3.6V
Discharge: 25A Max Continuous (35A Max Continuous with a temperature limit of 80°C)
Positive: Flat/Button Top/Tabs (please select)
Protected: NO
Rechargeable: Yes
Dimensions: 18.22mm x 64.80mm
Weight: 47.8 g
Priced Individually
Nu Battery Ltd only supply authentic, batch tested and fully EU/UK regulation compliant cells, complete with a free battery case for storage and protection.
Click Here For Connection Type Information
---
---
Product reviews
18 reviews
The batteries are genuine. High drain - perfect for mech mods. Baking as expected on 0.08 ohm coils. Will never buy a battery from any other shop!
Great battery use these in my hog v3
Absolutely amazing cells and fair priced
Great service. Excellent packaging. Swift delivery. Batteries as described.
I have purchased a few of the VTC5A from this company, Definitely the best supplier of batteries.
Good batteries, still going strong after 1.5 years of usage.
Very good balance between capacity and max current. Great service from 18650.uk as usual.
The best cells available in the UK come from this website! These VTC5A's are genuine and hit hard. They are all I use in my tube mods. I recently received a damaged cell. It was put right immediately and I also received a free gift for my trouble. Seriously don't hesitate.
VTC5A's are great cells and are the only cells i use in my mech tubes now. And 18650 uk provide a great service as always.
VTC5A's are quality batteries great service from 18650.uk
I've ordered quite a few of these from this site, they work well and hit hard, thank you.
Great item at a bargain price. With great service updates and quick delivery. Will definitely buy from you again. Many thanks guys
As described, great price, fast and free delivery. Brilliant company to deal with, highly recommended
This is the second order I have placed. The Quality of the Batteries is Excellent the service received from this company is absolutely brilliant. I can highly recommend them . Competitive pricing, fast delivery, excellent service.
Excellent batteries, all arrived at the same voltages and are genuine cells. Perfect for a long range battery pack for my quadcopter
good quality grade a sony vtc5a wich are hard to hind
genuine vtc 5a batteries exactly as described
The best cell for mechanical mods. These are genuine and well priced too!