Trading Standards. Falling, and Coming Soon...
*This blog post is taken from a mail shot sent to all past and present wholesale customers today (12th April 2018) but will ultimately affect and is relevant to all 18650UK customers, any other business involved in the purchase and sale of these batteries in the UK/EU. Its time to start listening...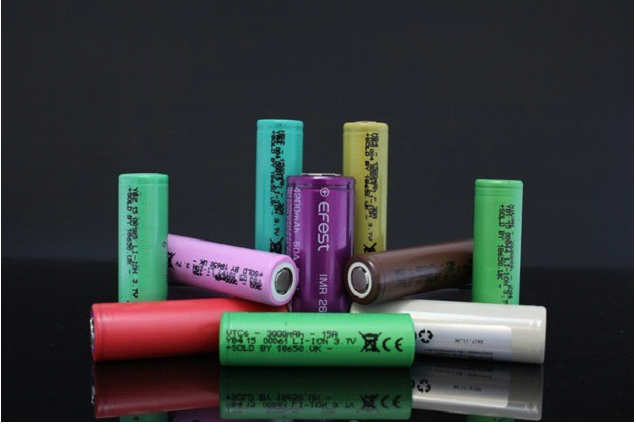 Trading Standards are on their way into stores...
Are you ready? Are you compliant?
At the end of 2017, Ben our Sales Director met for the first time with the UK government representatives for the EU Battery Directive to discuss the use of 18650 and other cells in the vaping industry, the law surrounding the supply of them in the UK and EU and what is and isn't being done in the industry to ensure total compliance and most importantly, customer safety. If you are selling these batteries to your customers, it is your responsibility to ensure you are doing so legally. Of course, at 18650UK we do this for you at no cost further than the cell itself.
Why has it taken this long? Simply, because writers of the EU Battery Directive and Trading Standards weren't fully aware of the use of these cells in vaping. And since they're designed for power packs, electric vehicles etc, they are NOT compliant with the regulations "out of the box". Having spent months in communication, they're now aware of exactly how they're being used in the vaping industry and are ready to support people on the route to full compliance with plans to update the directives to cover them more specifically.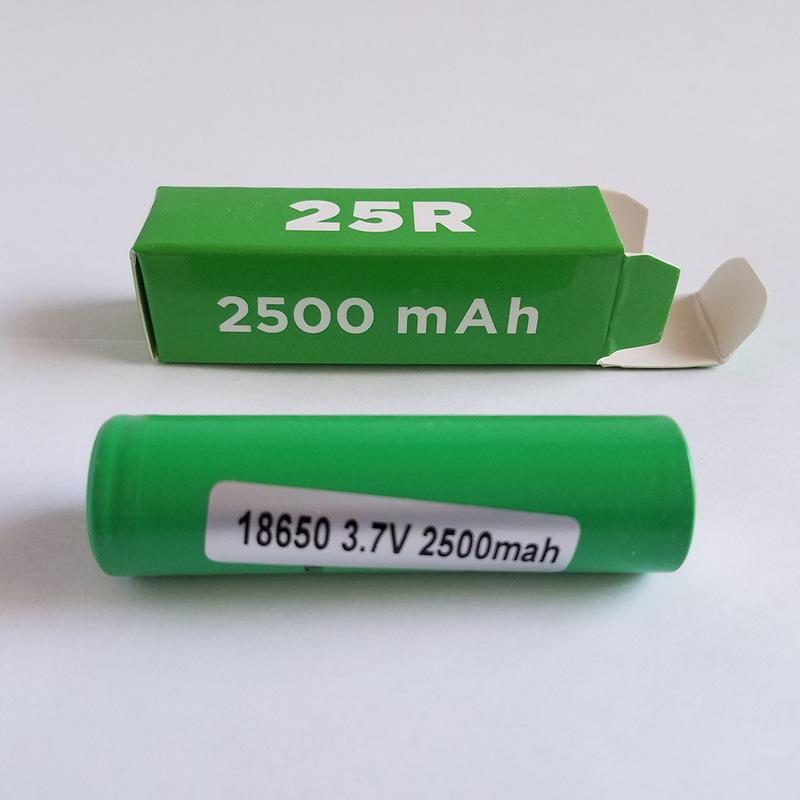 Do your batteries arrive like this? - This is not compliant. Not only are the stickers removable (regulations state the markings must be totally indelible), they don't have the necessary information on them. The polarity and WEEE bin symbol are missing, as is the chemistry marker. Want to know more? To start, the only reason they come in these boxes is to satisfy Chinese air export law; they have to be individually boxed. Nothing to do with retail convenience. Tens of thousands are poured into huge bins, then pulled out and individually boxed. Prime opportunity to lob a few boxes of counterfeits in the mix and boost already very slim margins too...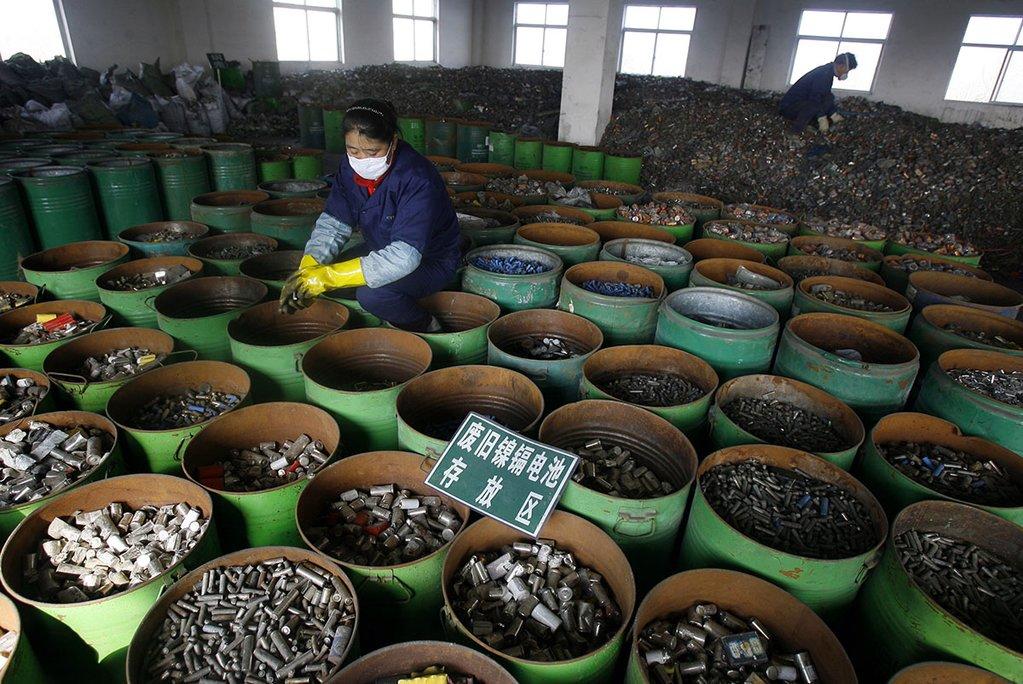 Importing from China? - Almost all of the cells/batteries we wholesale/distribute are manufactured in the Far East. Did you know that if you import direct from China, you are classed as a "Producer" and have much bigger legal responsibilities than just selling them? If you are the first business to place the cells on the market in the EU, you are responsible for having the batteries batch tested. You will also need to be able supply proof. With thousands of batch codes mixed together because of the above process, you can imagine the cost... This is why our batteries come by sea. Batch testing is much quicker, easier and cheaper when you have 20,000 of the same batch in their original factory boxes! You also need to register with the relevant government body, a WEEE scheme and have specific insurance to cover these products. (Picture is of a recycling plant. The 3rd party re-boxing plants look similar. The batteries just have wraps on...)
The law was already broken before we got here - It was the same for us too. When we started out, we were unaware of just how in depth the regulations were. But the old saying "ignorance isn't a valid defence" is very true here. Being unaware of your responsibilities wont stop Trading Standards removing your batteries from premises and its already happening. We've seen rumblings on socials and have even had a few companies come to us having suffered the same fate. Buying from 18650.UK saves you the worry. Every cell is fully compliant.
What can you do about it? Challenge your suppliers. If they're selling you non-compliant batteries, you could agree they don't have your best interests at heart. It would take a very serious customer service commitment to offer you a total order replacement if Trading Standards remove our cells from your store. Would they do it? We do. Having had our cell markings approved, Trading Standards are a help, not a hinderance. We're that confident, if there's ever an issue, we'll just replace them, hassle free. We've never had to do it, and we don't expect to...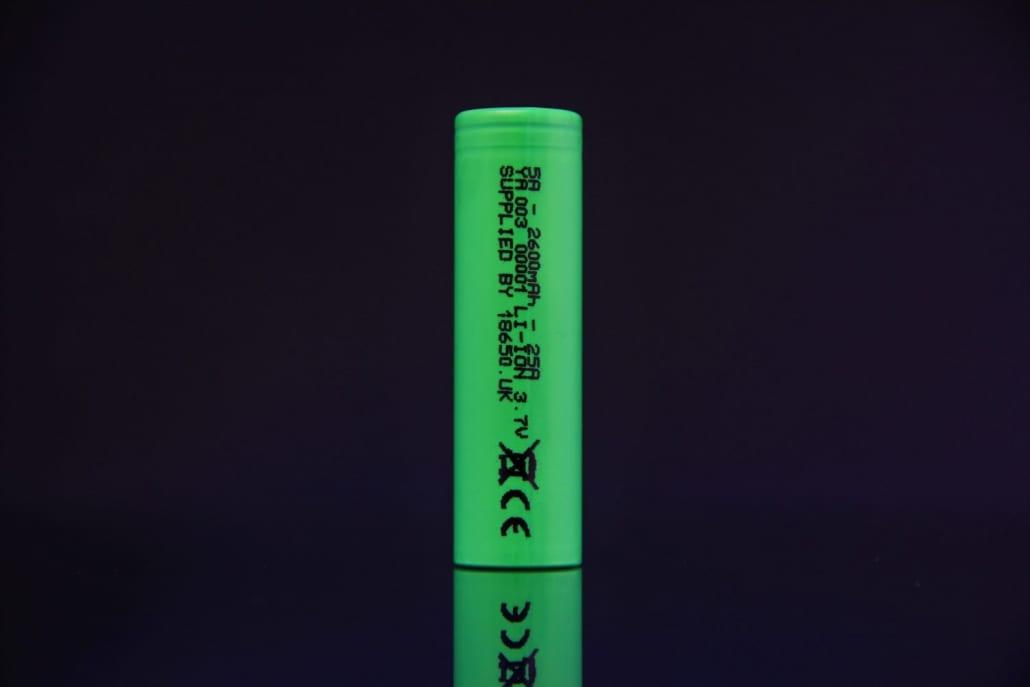 What do i look for? The minimum standards for cell compliance are the following; The RoHS bin symbol, Capacity, Chemistry and Polarity. As you can see, these are all present in our markings (polarity on the reverse on this 1st generation print. They are now all on the same side) which are done in house on our soft conveyor fed TIJ system. This is from the same manufacturer of equipment used by LG for the marking of their cells. This machinery uses a thermal ink, making it almost impossible to remove without harsh chemicals. It satisfies what the normal stickers do not; the markings must be indelible. On the box doesn't count either. It also safely processes several thousand cells per hour, meaning no delay in getting them to you.
What are the other numbers? - We're building an internal database of cells sold by us and have done since 4th January 2018. Every cell that leaves us (with the exception of those going to the accumulator/EV market) is given a unique serial number, making up most of the second line. This VTC5A pictured displays YA 003 00001. Y is 2018, D is January, 003 is the date, 00001 is the unique cell number from this batch; in this instance, the first. This format allows us to accurately trace any cell sold by us internally and externally. We hope that this will prevent counterfeiting of our markings, since we hold a record of exactly who we sold each wholesale cell too. (Cells sold on our retail website also have SOLD BY 18650.UK on them. We can place your company name here on wholesale orders and at no cost!
Need more information? - This isn't an exhaustive "how to" guide. There are many more things to consider, which we cover for all of our customers. Full details of the requirements and responsibilities for selling batteries in the UK including all of the above can be found on the gov.uk website by clicking here
As always, if you need anything further, don't hesitate to get in touch.
Ben - Sales Director - 18650UK
hello@18650.uk