Samsung 30Q - 18650 Battery - 3000mAh - 15A
Samsung 30Q - 18650 Battery - 3000mAh - 15A - Samsung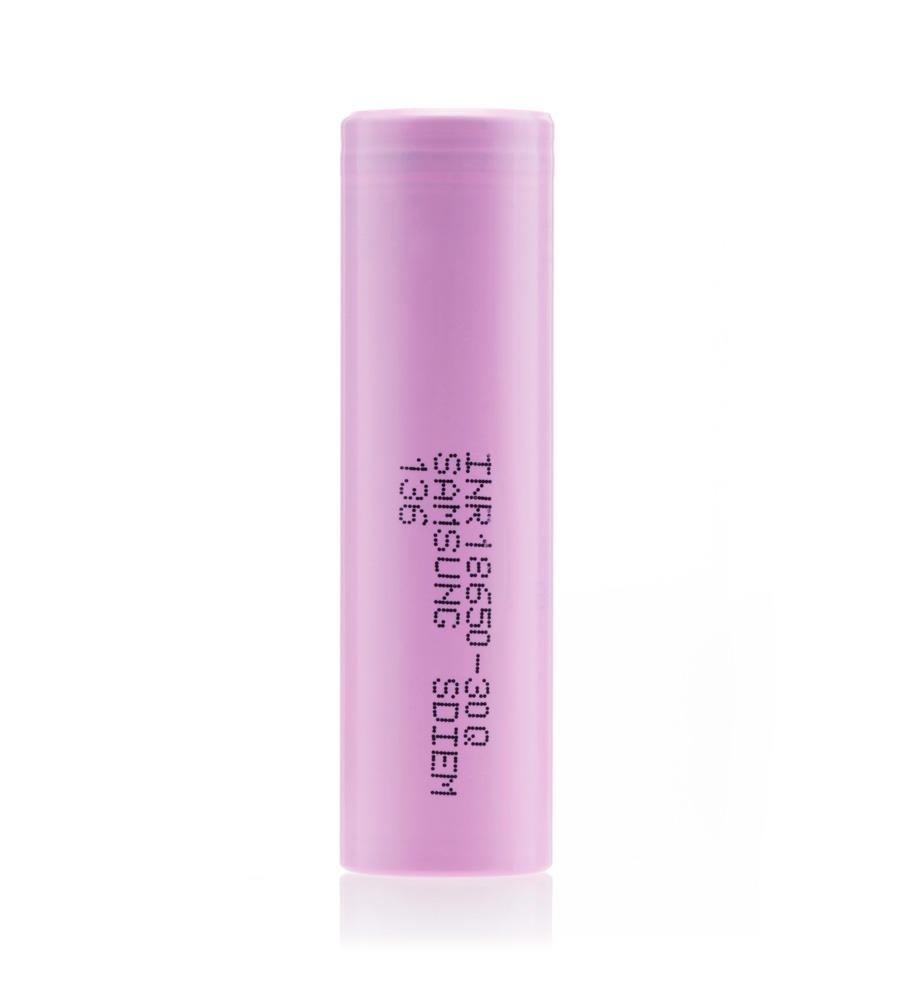 Samsung 30Q - 18650 Battery - 3000mAh - 15A
Samsung
3000mAh - 15A Continuous Discharge - Flat Top/Button Top/Tabs
Order by 3pm (Monday to Friday) for same day dispatch!
Brand: Samsung SDI
Model: 30Q, INR18650-30Q (30Q M)
Size: 18650
Chemistry: INR
Nominal Capacity: 3000mAh
Nominal Voltage: 3.6V
Discharge: 15A Max Continuous
Positive: Flat/Button Top/Tabs (please select)
Protected: NO
Rechargeable: Yes
Dimensions: 18.22mm x 64.80mm
Weight: 46.1g
Priced Individually
Nu Battery Ltd only supply authentic, batch tested and fully EU/UK regulation compliant cells, complete with a free battery case for storage and protection.
Samsung SDI have recently renewed their public displeasure at the sale of their Rechargeable Lithium-Ion Battery cells (RBLIC) products to end users globally, We are bound by the Office for Product Safety and Standards in the UK to advise that Samsung SDI have not designed, manufactured, endorsed or otherwise approved these products for use by consumers.

Click Here For Connection Type Information
---
---
Product reviews
31 reviews
Absolutely fantastic service, great prices and fast delivery. Perfect
Wow, what brilliant service. First time ordering from 18650.uk and they did not disappoint. Order just after 2pm yesterday, batteries in my hand by 1pm today. Stunning service!!! Product is awesome too, exactly what I needed to re-cell the battery pack for my robot. Thank you all.
This was the first time I had ordered from 18650. Although Royal Mail caused a hiccough with delivery I would like to say that the subsequent customer service from 18650 was absolutely first rate. The battery is quite clearly the real deal. I use a charger that measures capacity as I am always curious about such things and am often amused at Chinese batteries with ludicrous claims of 6000ma+having a real capacity of nearer 1000ma. Based on my experience of this purchase I will definitely order again and can recommend this seller. Thank you
Hello, I would like to thank you for the professional way that you dealt with my order, fast delivery, the quality as expected exactly, the price very competitive, packing is excellent Many thanks and I strongly recommend to deal with this great company, out of 10 I give 100 points For sure I will be back to buy from you again. Thank you Raed
Found this supplier on planet of the vapes after i was looking for genuine product, the 10% discount from pov sealed the deal as it bought the price down, so still not the cheapest but im happy to pay the extra 45p or so to get genuine product delivered promptly. it even arrived in a box! i know where to come when i need more cells.
As always outstanding service great prices on quality batteries Very fast delivery thanks guys as always much appreciated I highly recommend these 30q's ⭐⭐⭐⭐⭐
If you need batteries, then you can not go wrong here. The most wonderful customer service iv ever seen. And quality genuine products delivered safetly. I had an issue with my parcel from the mail end of it, and 18650 sorted it happily. 10 stars should be there but i give the 5 with ease.
Pretty impressed with these batteries, very quick delivery too. I was recommend this place for batteries for my first vape that required purchasing them (I have my first Smok). Thank you for such a quick service and I have no doubt I'll be back at some point
Brilliant service battery arrived quickly and in a case which was unexpected for the price really can't fault them at all will definitely be ordering again.
Product as described, reasonable price, arrived in time Excellent service
Very good battery. All packed in their own plastic cases and super fast shipping.
These are the longest lasting batteries I've ordered from 18650. Some of the others have not lasted well, but these are good and a great price. Delivery and packaging always good and sent with a case each
Fast delivery and batteries was super safe brilliant service 5 *
Great product and company. Reliable batteries shipped quickly. I'll be buying all my batteries from here
Speedy delivery considering the current epidemic. Genuine, good quality product. Thanks to 18650.
Genuine batteries are getting harder to come by our days but I've thoroughly tested these and they are the real thing, I've ordered twice off these guys once via ebay and then directly, good prices and excellent service, keep it up guys.
Ordered an 18650 Samsung 30q. Great price considering delivery was free! Arrived very quickly, nicely packaged. The battery came in it's own single cell protective plastic case with lid. Very happy, charged and using as expected. Will need a few more, so will be returning again. Thank you 1850.co.uk. Genuine batteries at outstanding value!
Just the job all spot on will be use in again
As a returning customer again quality products and excellent service
Good original batteries, received 2 days after order, can't complain Would recommend
No problems with the service from 18650 UK , the batteries are well made and they were bought for my model plane as a replacement power source . They have been made up into a 4 cell pack and fit pperfectly into the model . Will see how they perform later .
spot on. service. price and quick delivery. thx
Batteries appear to be performing well. Good value and speedy delivery. Only one small gripe is the cases they came in were damaged so 18650.uk may want to review their packaging - assuming they got damaged in transit. 3 out of 8 cases had chunks broken off - still use-able though and I considered the cases a bonus anyway. So thankyou and I'll be sure to use you again.
Ordered 3 x Samsung 30Q's a while back but only just got around to using them due to my vape stick not quite dying when I thought it had - am now using these in an eLeaf iStick Rim C which requires removable/rechargeable batteries compared to previous version which was built in. Early signs show now issues with device working or re-charging which can only be a positive so, to summarise, extremely happy with service and batteries, would recommend for anyone needing these types of batteries moving foward
Second time using this site. Prompt delivery and professionally packed, can't ask for more really, would 100% recommend!
My personal favourite battery. Great all day use. Service is second to none
Happy with the service and the batteries are very good and at a great price will come back for more
Fantastic batteries at a fantastic price. 18650 will be getting my repeat custom and recommended to all my friends as well. Great service as well as great AUTHENTIC and safe batteries!
Product is exactly as described, comes in a nice plastic storage tube. I ordered some ODB wraps too, they didn't have the ones I asked for in stock and so shipped a different one for free, refunding what I paid for the original set. Great quality, great service, will absolutely be using again.
Not having a Facebook account, I wanted to leave a review for these guys. I ordered 2 of these which arrived next day, well packaged and in a plastic case, which I wasn't expecting! More importantly, the service I received from Ben was absolutely brilliant. One of the batteries had a tiny nick in the wrap and being a bit of a noob, I wanted to check it was Ok to use. Ben replied to my email immediately and explained this can happen sometimes in transit, but wanted to ensure everything was perfect. He kindly sent me out some new wraps free, which arrived the following day. Not only that, Ollie stuck in a free ticket to The Vaper Expo at the NEC! Anyone reading this, looking for a quality battery seller, stop searching and just order from these guys, they are the absolute business! Thanks again Ben and Ollie for the outstanding service, I won't be going anywhere else for my 18650's in the future. Cheers Chris