Molicel INR21700 P42A - 21700 Battery - 4200mAh - 30A
Molicel INR21700 P42A - 21700 Battery - 4200mAh - 30A - Molicel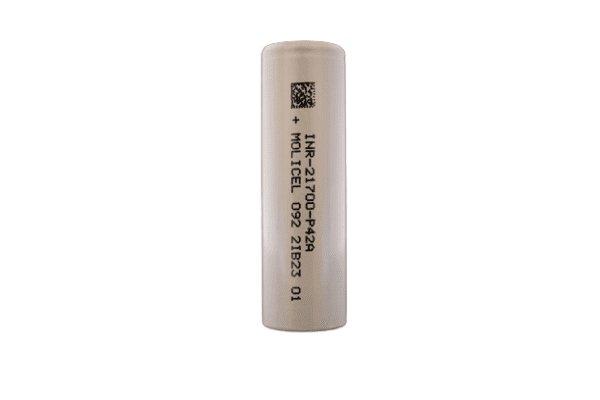 Molicel INR21700 P42A - 21700 Battery - 4200mAh - 30A
Molicel
4200mAh - 30A Continuous Discharge - Flat Top/Button Top/Tabs
Order by 3pm (Monday to Friday) for same day dispatch!
Brand: Molicel
Model: INR21700 P42A
Size: 21700
Chemistry: IMR
Nominal Capacity: 4200mAh
Nominal Voltage: 3.6V
Discharge: 30A Max Continuous
Positive: Flat/Button Top/Tabs (please select)
Protected: NO
Rechargeable: Yes
Dimensions: 21mm x 70mm
Weight: 65g
Priced Individually
Nu Battery Ltd only supply authentic, batch tested and fully EU/UK regulation compliant cells, complete with a free battery case for storage and protection.
Click Here For Connection Type Information
---
---
Product reviews
3 reviews
Ordered the Molicel after much googling. Arrived quickly and powers my Vaporesso Target 100 for 2 days before it needs charging (using the 0.2ohm coil). Checked the true capacity at 4180mAh which is close enough for me. I will be ordering more as I need them.
These are one of the best batteries on the market.
Excellent product, will buy again.