Molicel INR18650 P26A - 18650 Battery - 2600mAh - 25A
Molicel INR18650 P26A - 18650 Battery - 2600mAh - 25A - Molicel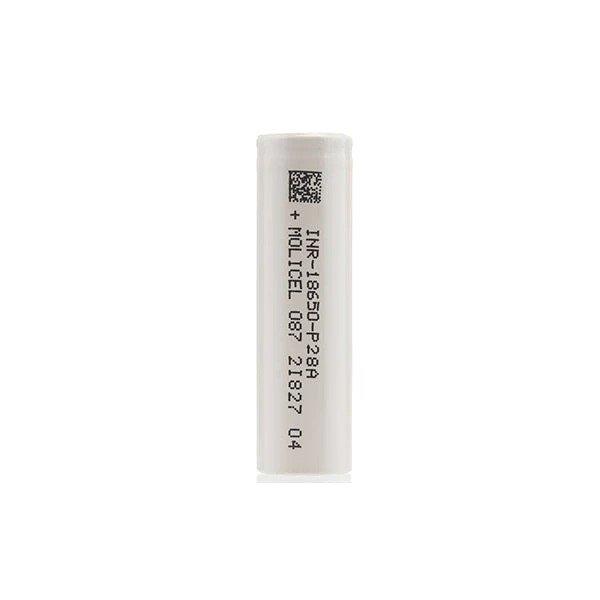 Molicel INR18650 P26A - 18650 Battery - 2600mAh - 25A
Molicel
2600mAh - 25A Continuous Discharge - Flat Top/Button Top/Tabs
Order by 3pm (Monday to Friday) for same day dispatch!
The P26A has been superseded by the P28A, you can find it here: Molicel P28A
Brand: Molicel
Model: INR 18650 P26A
Size: 18650
Chemistry: INR
Nominal Capacity: 2600mAh
Nominal Voltage: 3.6V
Discharge: 25A Max Continuous
Positive: Flat/Button Top/Tabs (please select)
Protected: NO
Rechargeable: Yes
Dimensions: 18mm x 65mm
Weight: 47.8g
Priced Individually
Nu Battery Ltd only supply authentic, batch tested and fully EU/UK regulation compliant cells, complete with a free battery case for storage and protection.
Click Here For Connection Type Information
---
---
Product reviews
12 reviews
Great battery overall. Lasted about 9 months under vape usage before major degradation. If taken care of could of lasted another 3 or 4 months.
Always go for Samsung, but everyone is praising these Molicel so took the plunge and bought some and I am extremely happy with them, cracking battery roll on payday and I shall buy some more. Cheers Ollie and the gang for a very fast delivery.
Exellent high drain battery, shipping was very fast , it arrived next day.
Just love them, one of the best performing 18650 out there. Definitely the best all around, good capacity and very good performance in general.
Good batteries for my vape - better than samsung that i bought previously.
Very good battery. Can't beat you guys for shipping speed.
Best all round 18650 for a reason.
Great cells; high drain, good capacity. Best all round 18650 for a reason.
Fantastic battery! Impressed with how long it lasts in my vape before charging. Fast delivery, great service from 18650 batteries.
Excellent battery the best 18650 I've used so far, strong Thick wrap not the usual thin wrap that damages so easily. They came quickly in excellent single battery tubes brilliant couldn't be happier highly recommended!
Best 18650 batteries I've tried so far. Delivery was fast as usual.
great 18650, best all round battery on market, even beats Sony vtc5a.